News 2018
October
Tuesday 9th at Edge Hill Arts Centre.
Pupik – A contemporary tale in search of identity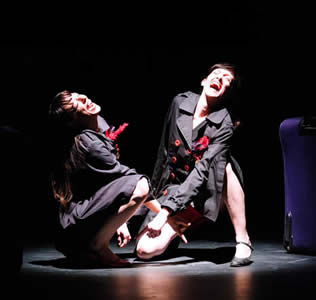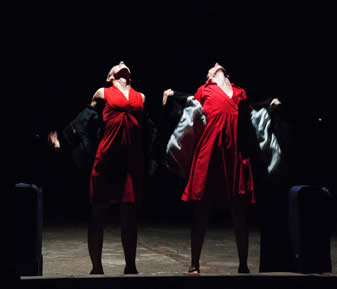 Sat 13th at 19.30 at Tara Arts London
D-CODE a solo performance by Yael Karavan
More info and Booking HERE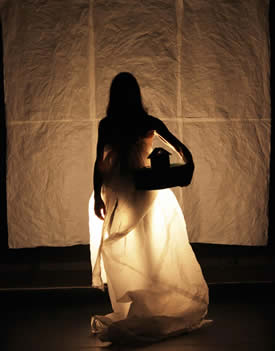 September
Sab 15 as 11h-17h e Dom 16 as 10h-16h–
Oficina de Butoh Com Yael Karavan em Lisboa
na sede da Lua Cheia, Mais informacao AQUI- https://www.facebook.com/events/483493588778709/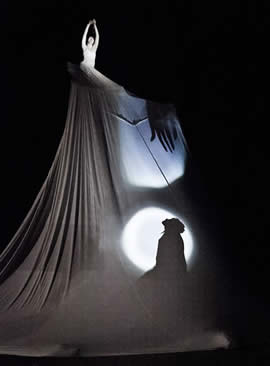 22nd and 23rd 11am-5pm–
The Space In-Between –Taller de Butoh com Yael Karavan em Madrid
mais informacao AQUI- https://www.facebook.com/events/1803910519716652/

24th-27th -6pm-8pm – Workshop the Body Speaks
part of Summer School To Walter Benjamin
in Portbou, Catalunya, 2018 
Registrations – info@passatgescultura.org / 660 82 70 23
From 12 years old. 20 € / Sportive clothes.
more info HERE

30th– 12-12:30pm– Yael Karavan's Solo Dance performance 
dedicated to Memorial Passages, by Walter Benjamin, On the esplanade of the cemetery, Portbou, made by her father Dani Karavan, with the collaboration and musical composition of Vicente Ordóñez. More info HERE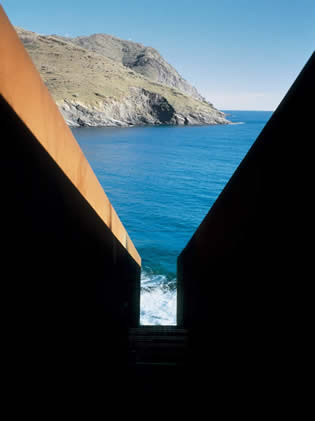 August
3rd-5th & 9th-12th at 8pm – na Caixa cultural em Rio de Janeiro PUPIK– Fuga em 2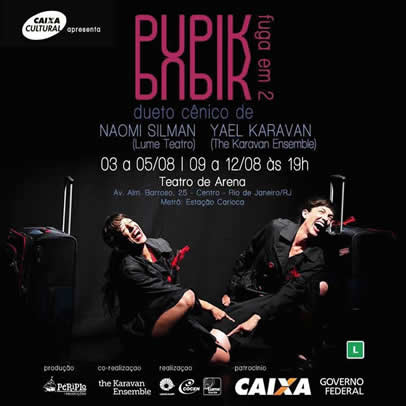 Sat 18th & Sun 19th as 11h-18h- Oficina de Butoh Com Yael Karavan em Rio de Janeiro
Mais Informacao AQUI- https://www.facebook.com/events/2104538176498292/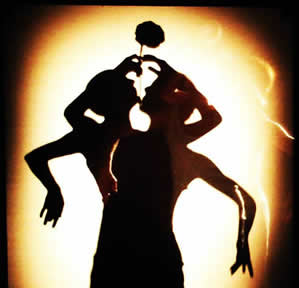 Sat 25th 10.30am-4.30pm– Butoh workshop in Oxford
July
Tue 24th & Wed 25th at 8pm at Worthing Pavilion Theatre.
PUPIK – a contemporary tale in search of Identity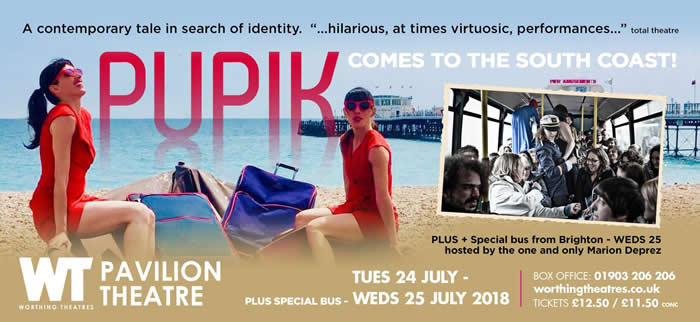 More info and Bookings on this link-https://worthingtheatres.co.uk/pupik/
Wed 25th the show will start on a bus from Brighton at 7pm
Pick up at the old stein bus stop S, hosted by the one and only Marion Deprez,
'Amazing performance! … thoughtfully & beautifully crafted… exactly my cup of tea!' Jeremy Au
June
Sat 2nd & Sun 3rd 11am – 5pm -Butoh workshop in Madrid
More info and booking HERE or email to Más información aquí- gutderby@gmail.com
sat 16th & sun 17th – 11am-5pm -Butoh workshop at Evolution Arts.
"My dance is far removed from conventions and techniques, it's the unveiling of the inner life"
Tatsumi Hijikata, founder of Butoh Dance.
More info and Bookings HERE

Sat 23rd doors open at 7.30pm @ the Rosehill- The Midsummer Madness 'Cabba Cabba Rey!'
In/Out are delighted to present their 2nd seasonal cabaret event at the Rosehill. Following the success of 'A movement of freedom' in March they will be back with a vengeance, now including internationally acclaimed performers Ricardo Puccetti and Naomi Silman from Brazil!
So no excuses…be there…or you'll regret it!!
Live performance, music, laughter and unexpected interventions with Yael Karavan, Ricardo Puccetti, Naomi Silman, Tim Harbridge, Joe Watson, Xelis de Toro and more… £5 in advance (info online soon £7 at the door
May
11th & 12th -7.30pm– Performances of – PUPIK – a contemporary tale in search of Identity,
at Tara Arts, London, part of 'I'll Say It Again! A season of work by women artists', A month-long festival of art events celebrating the centenary of women's suffrage in the UK.
MORE info and BOOKINGS HERE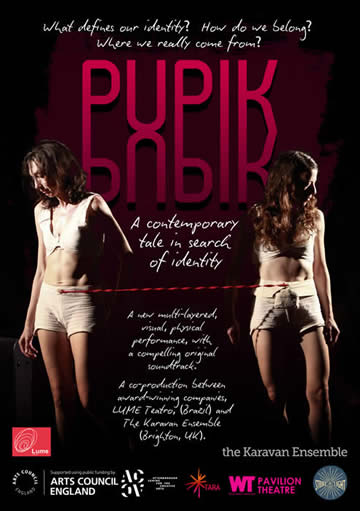 Sat 17th May 7pm – THE BIRTH OF DEATH- @The Edge 79-81 Cheapside, Birmingham B12 0QH

Created and performed by Joanne Tremarco
Directed by Yael Karavan
"A tremendous piece of heartbreaking, exhilarating theatre." Garry Cooke, Lancashire Fringe
Tickets: birthofdeath.eventbrite.co.uk
Part of BRUMYODO's A Matter of Life and Death Festival
sat 26th & sun 27th 11am-17h -Butoh workshop in Asturias, for more info email e.karavan@gmail.com
April
wed 4th & Sat 7th 8pm- performance of PUPIK- a contemporary tale in search of identity
in Tmuna Theatre, Tel- Aviv, Israel –Booking and more info HERE
sat 21st & sun 22nd 11-17h – Workshop – The world reflected in a drop of water with Butoh Elements in Barcelona more info and booking contact/
Reservas- info@voxdansa.com
sab 28th & dom 29th 11.30-18hs -Oficina- O mundo refletido numa gota d'água: (Auto) – Retrato na criação de Solo com elementos de Butoh, Espaco- Palácio Pancas Palha, Santa Apolónia|Lisboa
Valor 60 euros até dia 17 de Abril, 70 euros depois dessa data
contato: Miriam Freitas miroska.souza@gmail.com
March
Sat 3rd 11am-5pm– Butoh Workshop @ Evolution Arts Brighton.
more info and Bookings HERE

Sunday 11th 2-5pm– Butoh Workshop @ BNHC
More info and Booking HERE
Mon 12th -19th – Pupik– the outreach community engagement part of the project is taking off-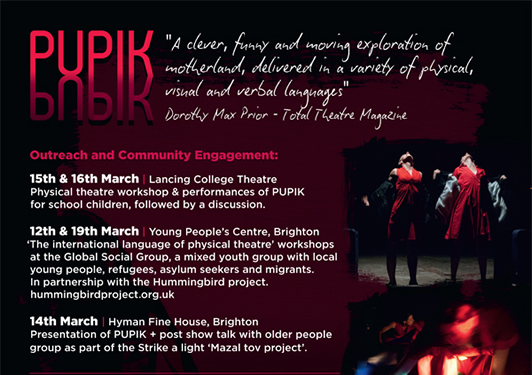 30th 7.30 Doors open– 'A Movement of Freedom!' Cabaret Night.
We are delighted to invite you to the first in the In/Out Cabaret series at Rosehill, Brighton.
Friday 30th March doors open at 7.30pm
'A movement of freedom!' is a Cabaret Night of live performance, music and unexpected surprises, curated and performed by Yael Karavan with Ed Briggs, Xelis Detoro, Tim Harbridge and special guest Joe Watson.
Friday 30th March is the Passover night…where people traditionally come together to celebrate their freedom, it's also Good Friday, Black Friday (originally connected to Paganism rather than consumerism!), it's a year after the triggering of article 50…and a year before the UK leaves the EU in a political move that literally threatens our freedom of movement!…so if these are not good reasons to emerge from this long cold winter into a long awaited spring and celebrate our freedoms together, then what are?!
Book tickets- HERE
Photo by Yolanda Y.Liou, Art work- Jim Sans
February
Sat 9th & Sun 10th -11am-5pm Workshop 'A Ship of Fools' @ Evolution Arts Brighton.
70/60£ More info and bookings –HERE
January
15th – 30th – PUPIK– Fugue in 2 has received its funding from Arts Council England to be translated and adapred into English! Huraaaa!
We are delighted to begin two weeks of adaptation, one at the Pavillion theatre in Worthing, followed by a second week at the Attenborough Centre for the Arts at Sussex Uni.
Performances to follow this Spring and Summer- Watch this space!